What is the difference between a final drive and a travel motor?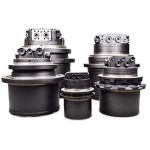 The final drive may also be referred to as the planetary gear final drive unit or the planetary final drive. The term final drive refers to speed-reducing and torque-multiplying gear system. It comprises many gears and works in conjunction with the travel motor. The final drive's purpose is to control the power to the tracks, in other words transforming the power into torque, which the travel motor provides. That process gives the tracks enough power to turn. There are two parts to the final drive: the hydraulic track motor and the final drive gear box.
Travel motor
The travel motor transfers the power from the hydraulic pump to the final drive. The difference between a swing motor and a travel motor is quite big. The swing motor and the travel motor is both powered by the hydraulic pump, the hydraulic pump is powered by the machines engine (usually a combustion engine). The swing motor turns the "house" of the excavator, where the travel motor is used to differentiate the motors of the tracks.
Conclusion
In short terms the final drive is the part that turns the power, which the travel motor delivers, into torque.
If you're in need of a hydraulic spare part, for example a final drive, feel free to browse our site or simply just fill out the form to contact us or write us an email at info@mecatra.com