What is a swing device?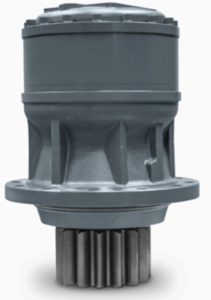 A swing device for an excavator is a component that allows the excavator's upper structure to rotate 360 degrees horizontally, enabling it to work in any direction. The swing device includes a hydraulic motor that is powered by the excavator's hydraulic system, and it is responsible for moving the excavator's upper structure (including the boom, stick, and bucket) in a smooth and controlled manner.
The swing device typically consists of a gear ring that is mounted on the excavator's undercarriage, and a pinion gear that is mounted on the upper structure. When the hydraulic motor rotates the pinion gear, it causes the upper structure to rotate around the gear ring, allowing the excavator to work in a wide range of directions without having to move its tracks.
The swing device is an essential component of an excavator, as it allows the machine to be highly versatile and efficient in a variety of construction and excavation applications.
If you're in need of a hydraulic spare part, for example a final drive, feel free to browse our site or simply just fill out the form to contact us or write us an email at info@mecatra.com